Jon Erdman
Published: August 1,2017
What was once Tropical Storm Emily has now left Florida behind after a whirlwind landfall Monday featuring heavy rain and some local wind damage.
(LATEST NEWS: Emily Prompts State of Emergency in Florida)
Emily is currently a tropical depression over the Atlantic Ocean, and it will continue to track well off the southeast U.S. coast, weakening to a remnant low Tuesday night or Wednesday.
Projected Path
Some pockets of locally heavy rain are possible across the southern Florida Peninsula, the Florida Keys and the northwest Bahamas into Tuesday evening, but less widespread than we've seen the past few days.
(
INTERACTIVE: Your Local Radar Loop
)
Impact Recap
In East Naples, wind gusts up to 30 mph damaged a roof at a construction site Monday afternoon. Debris from the roof caused damage to a pickup truck, though no injuries were reported.
(
MORE: Hurricane Central)
Winds damaged the roof of a mobile home south of Bradenton late Monday morning. Gusts close to 60 mph prompted
closure of the Sunshine Skyway Bridge
linking St. Petersburg to Manatee County.
In addition, the National Weather Service (NWS) confirmed an EF0 tornado touched down 6 miles west-northwest of Bradenton just before 11 a.m. Monday, with estimated maximum winds of 80 mph. Two barns were destroyed, multiple green houses were destroyed and engineered walls were toppled. The NWS estimated the damage at $96,000 from this tornado.
Early Monday morning at the Outrigger Beach Resort in Fort Myers Beach, a section of a roof was blown off one building and landed on another one. Fortunately, no injuries were reported.
A spotter in Hillsborough County near Valrico measured over 8 inches of rain as of 1 p.m. EDT Monday. Street flooding prompted a closure of a stretch of Ninth Street, according to the spotter.
Where Did This Come From?
Twitter follower BeasleyParker probably summed up the feelings of many upon hearing the news early Monday.
Most landfalling tropical cyclones come with at least 24 hours advance warning, usually more.
This all started with a cold front that dropped south into the northern Gulf of Mexico during the weekend, then stalled out.
You don't typically see cold fronts penetrate that far south this deep in the summer. The end of July is typically hazy, hot and humid in the southeast U.S., not featuring strangely comfortable air masses plunging from Canada into the Deep South.
(
MORE: 7 Odd Things We Saw in the Weather in Late July
)
Early in the hurricane season, these old fronts are typically monitored closely for tropical development.
Ripples of low pressure can form along these stationary fronts and, if thunderstorms cluster near those surface low-pressure ripples, a tropical depression or storm can quickly form.
In Emily's case, a swirl of low pressure was evident on radar and satellite imagery Sunday morning about 100 miles south of Pensacola, Florida.
Sunday night, thunderstorms near the circulation became more vigorous and concentrated, with several cloud-to-ground lightning strikes documented, as it moved east-southeast.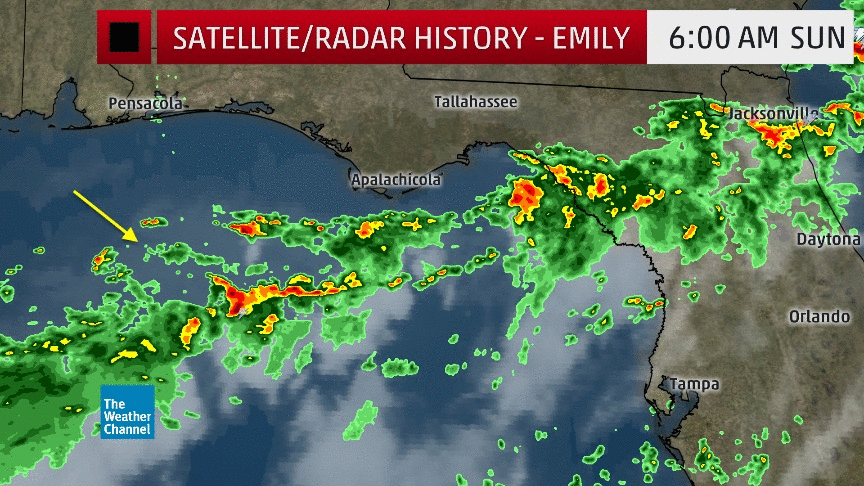 Radar, satellite, cloud-to-ground lightning history of what became Tropical Storm Emily in the Gulf of Mexico from July 30-31, 2017.
By Monday morning, utilizing Doppler radar from the National Weather Service office in Ruskin, Florida, forecasters at the National Hurricane Center determined this previous ripple of low pressure had enough persistent showers and thunderstorms with strong enough winds to name it Tropical Depression Six.
Just two hours later,
Doppler velocity data indicated winds had ticked upward
enough to bump the system to Tropical Storm Emily, after which it moved ashore at 10:45 a.m. EDT on Anna Maria Island, near Bradenton, with estimated maximum sustained winds of 45 mph.
To recap, the system went from Invest 98L to Tropical Depression Six to Tropical Storm Emily to a landfall, all in the span of roughly five hours on July 31.
(
MORE: What is an Invest?
)
Track history of Hurricane Humberto in mid-September 2007.
The poster child recent "developing quickly" tropical system in the Gulf happened almost 10 years ago, once again involving an old frontal boundary.
On Sept. 12, 2007, a system went from a tropical depression just over 100 miles south of Galveston, Texas, to Category 1 landfalling
Hurricane Humberto
less than 24 hours later.
Because Humberto formed and intensified so rapidly, warnings were issued with far less lead time than usual. Tropical storm warnings were issued 16 hours before landfall, but hurricane warnings came only two hours before landfall.
(MORE: Not Just Emily: Here Are Other Tropical Storms and Hurricanes That Developed Suddenly Near the U.S.)
Humberto was a classic example of how difficult it can be for forecasters to anticipate rapid strengthening and issue appropriate alerts to the public.
Despite the short warning, Humberto's impact was limited to one death and about $50 million in damage, striking a sparsely populated area of the coast east of Houston.
MORE: Tropical Storm Emily (PHOTOS)
The Weather Company's primary journalistic mission is to report on breaking weather news, the environment and the importance of science to our lives. This story does not necessarily represent the position of our parent company, IBM.