August 22,2017, 12:17:06PM,EDT
Spectators across the United States were able to catch pictures and a glimpse of the moon passing in front of the sun during the solar eclipse on Aug. 21.
The best viewing conditions, where skies were mainly clear, occurred across the Pacific Northwest in places like Portland, Oregon; Boise, Idaho; and Casper, Wyoming.
"Clouds, showers and thunderstorms created some viewing difficulties across a large portion of the Upper Midwest from the eastern Dakotas through Minnesota and down into parts of Iowa and Nebraska," AccuWeather Meteorologist Brian Edwards said.
Viewers with their protective glasses were also able to see totality in the eastern U.S.
"Partly cloudy skies allowed for good viewing conditions along the path of totality through the Tennessee Valley and into the Carolinas," Edwards said.
The moon passes in front of the sun during the partial phase of a total eclipse Monday, Aug. 21, 2017, as seen from a roadside park near Useful, Mo. (AP Photo/Charlie Riedel)
A total solar eclipse is seen above the Bald Knob Cross of Peace Monday, Aug. 21, 2017, in Alto Pass, Ill. More than 700 people visited the over 100-foot cross for the event. (AP Photo/Charles Rex Arbogast)
Partial eclipse in Tampa, Florida. (Image via Twitter/CAnnaIng)
A partial solar eclipse is seen near the Statue of Liberty on Liberty Island in New York, Monday, Aug. 21,2017. (AP Photo/Seth Wenig)
In this multiple exposure photograph, the phases of a partial solar eclipse are seen over the Gateway Arch on Monday, Aug. 21,2017, in St. Louis. The Gateway Arch was just a few miles outside of the path of totality. (AP Photo/Jeff Roberson)
Corvallis, Oregon sky via twitter/annperkinss
Crescent captured in Austin, Texas. (Image via Twitter/alykat2120)
Moon-shaped shadows in a colander in Burley, Idaho. (Image via Twitter/MrsAgTeacher)
A glimpse at totality in Cookeville, Tennessee. (Image via Brian Lada, AccuWeather Meteorologist. Twitter/wxlada)
Darkness during totality in Corvallis, Oregon. (Image via Twitter/annperkinss)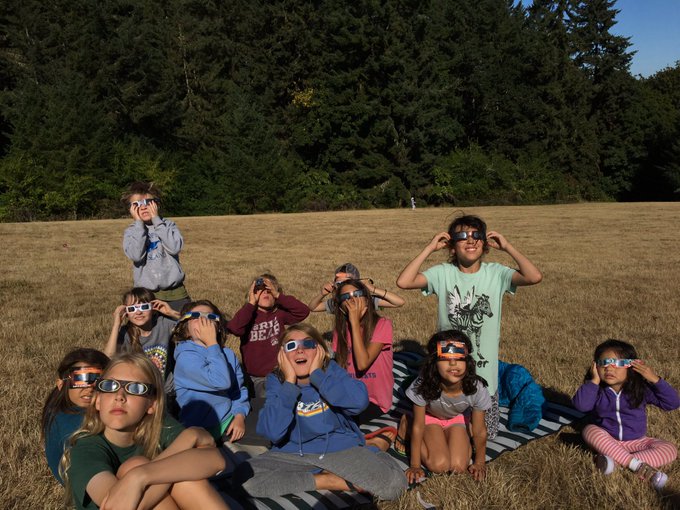 Captured in Smithville, MO during the totality...
#
Eclipse2017
Eclipse from S. Fla.