August 25,2017, 1:15:38PM,EDT
As of 12:11 p.m. CDT Friday, this reports story is no longer being updated. For continuous live news updates of Harvey, click here.
Preparations are underway along the Gulf Coast as Hurricane Harvey approaches, threatening with dangerous flooding and storm surge.
About
10-20 inches of rain could fall
over a large part of southern and eastern Texas and southwestern Louisiana from from Friday into early next week, according to AccuWeather Hurricane Expert Dan Kottlowski. More than 2 feet could fall at the local level, he added.
---
10 a.m. CDT Friday:
The U.S. Coast Guard has aviation crews getting planes ready for Harvey response efforts.
Elsewhere, the Texas Department of Transportation continues to take precautions. Crews finished prepping a storm surge wall on state highway 361 in Aransas Pass.
---
9:18 a.m. CDT Friday:
The Hurricane Hunters have completed a flight into Hurricane Harvey to collect storm data, and are preparing to resume their mission sometime on Friday.
TxDOT storm surge wall be complete shortly on SH 361 in Aransas Pass. Protect people & property from Harvey surge. It's part of levee system
---
8:45 a.m. CDT:
The National Hurricane Center is warning that preparations should be completed this morning. Tropical-storm-force winds have already been reported at Corpus Christi Naval Air Station today.
Beaches at South Padre Island are closed as Harvey continues to creep closer to land.
---
6 a.m. CDT Friday:
Assisted evacuations in Corpus Christi will resume at 8 a.m. local time Friday. The city also dispelled rumors that utilities will be shut off as Harvey advances.
---
2:30 a.m. CDT Friday:
The eye of Hurricane Harvey can be clearly seen on radar early Friday morning, August 25, 2017.
The outer rain bands of Harvey are moving onto the southeast Texas coast. Winds could gust up to tropical storm force (39 mph or greater) as the rain pushes ashore. Wind and rain will continue to intensify as Harvey pushes closer to the coast throughout Friday.
---
12:00 a.m. CDT Friday:
Harvey has strengthened into a Category 2 hurricane. The storm is still on track to become a major Category 3 hurricane prior to making landfall in Texas late Friday.
---
11:15 p.m. CDT Thursday:
At least 10 babies in Corpus Christi who are critically ill have been transported to a hospital in Fort Worth to avoid Harvey's wrath. Several flights were made, carrying one or two infants at a time,
according to NBC DFW.
"It takes a talented team of nurses, paramedics and respiratory therapists
to assess the needs of those babies and to be able to safely monitor those babies through the entire transport," Cheryl Peterson, chief nursing officer at Cook Children's Medical Center in Forth Worth, told local media.
---
10 p.m. CDT Thursday:
700 service members are being activated in Texas ahead of the storm, the American-Statesman reports. Members are from the Texas Air National Guard, Texas State Guard and Texas Army Guard.
---
8:30 p.m. CDT Thursday:
County officials are warning people around Houston that power may be out for days due to Harvey.
People that have generators should make sure that they have enough gas to last them until power is able to be restored. However, time may be running out to stock up on gas for generators as some gas stations are already running out of fuel.
James Redford carries a sheet of plywood as he helps board up windows in preparation for Hurricane Harvey, Thursday, Aug. 24,2017, in Corpus Christi, Texas. Two counties have ordered mandatory evacuations as Hurricane Harvey gathers strength as it drifts toward the Texas Gulf Coast. (AP Photo/Eric Gay)
---
7:15 p.m. CDT Thursday:
Travel delays are mounting along coastal areas of Texas as people evacuate ahead of Harvey. This includes part of I-37 between Corpus Christi and San Antonio, Texas which was at a standstill earlier this afternoon.
TxDOT vehicles will be
patrolling this section of I-37
beginning at 10 p.m. CDT Thursday with water and fuel to ensure that people can reach safety.
Dozens of flights have already been delayed at George Bush Intercontinental Airport in Houston and Corpus Christi International Airport for Friday, according to FlightStats.
---
5:30 p.m. CDT Thursday:
The Hurricane Hunters are preparing to take off and fly into Harvey to collect data about the storm. The information that is gathered during the flight is used to create more accurate forecasts.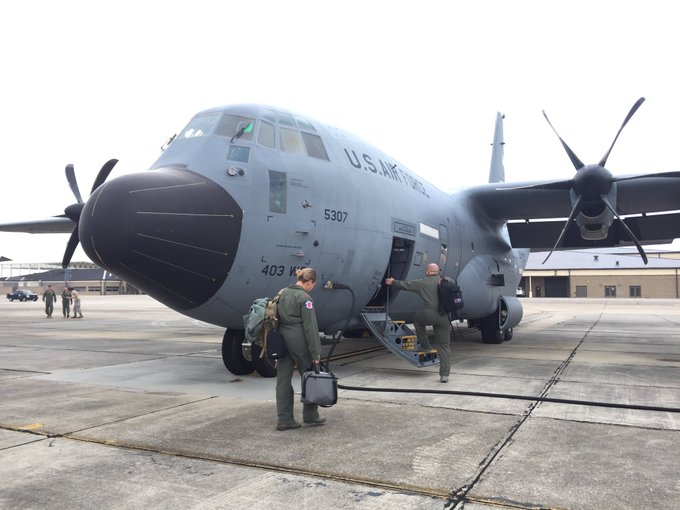 Harvey is continuing to gain strength as it tracks northwestward toward Texas.
The storm is beginning to develop an eye and may become a category 2 hurricane later this evening or early tonight.
---
4:00 p.m. CDT Thursday:
President Donald Trump is urging people to plan ahead and prepare for Hurricane Harvey before it's too late.
More mandatory evacuations have been issued along the Gulf Coast, including portions of Corpus Christi, Texas. The mayor of Corpus Christi told people that if they believe that they should evacuate, then they should leave.
Mayor McComb strongly encourages evacuation, especially the low lying areas of Area A and B as seen in the map below (pink and yellow area).
---
2:32 p.m. CDT Thursday:
The Texas Department of Transportation (TXDOT) is asking Texans to stay up-to-date on possible ferry and road closures as Harvey moves closer to land.
"At this time, all ferry operations are running, but that could change quickly as water surges exceed 5 feet. At this time, it is now likely the ferries in Port Aransas will run through late Friday morning, conditions permitting," TXDOT said in a statement.
"We also encourage families to make preparations for this storm by filling up gas tanks for possible evacuations and by getting at least three days of food and water for possibly sheltering in place."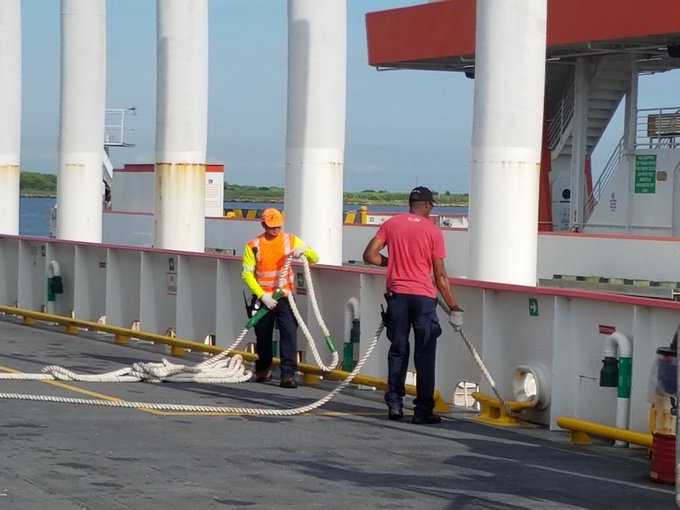 Ferry personnel working to secure equipment and boats in preparation of
#
Harvey
.
---
1:58 p.m. CDT Thursday:
Portland, Texas, which is 10 minutes north of Corpus Christi, has joined the list of cities under
mandatory evacuation
.
The city of Port Aransas has also ordered mandatory evacuations after officials determined that
extraordinary measures
must be taken.
Corpus Christi Mayor Joe McComb is urging residents to evacuate the city voluntarily. "I can't stress enough that we are
up to the threshold
of a mandatory evacuation," McComb said.
The government is providing assistance for people who are unable to leave on their own.
---
1:25 p.m. CDT Thursday:
Oil and gas companies, including Exxon Mobil and Royal Dutch Shell, have put a halt on production and are evacuating employees from their facilities in the Gulf of Mexico,
according to Reuters
.
Various school districts in Texas have also announced closures through Monday in preparation for Hurricane Harvey. Some campuses have sent students home early on Thursday.
---
12:32 p.m. CDT Thursday:
Mandatory evacuation orders have been issued for parts of Texas, including Rockport.
Some previous voluntary evacuations have been elevated to mandatory following the announcement of Harvey's upgrade to a Category 1 hurricane.
---
12:02 p.m. CDT Thursday:
Harvey has strengthened into a Category 1 hurricane in the Gulf of Mexico with 80 mph winds.
---
10:45 a.m. CDT Thursday:
People in Texas are braving long lines for storm supplies ahead of Harvey's arrival. Some gas stations are running out of fuel as drivers wait to fill up their tanks.
The wait has also been lengthy for obtaining sandbags in preparation for Harvey's heavy downpours and dangerous flooding.
---
10:20 a.m. CDT Thursday:
Texas A & M University has issued a mandatory evacuation for the Corpus Christi campus, effective immediately. The campus will be closed from noon until at least Sunday.
Flight delays and airline cancellations will mount into this weekend. Portions of Interstate 10, I-37 and I-45 may be forced to close near the Texas coast as flooding commences.
A power loss in the local area may prevent ATMs and cell towers from operating.
Economic impact from Harvey may extend well beyond the local level. In addition to power outages shutting down gas stations in the area for an extended period, refineries in the path of the storm may have to shut down, which may push fuel prices up.
---
On Wednesday, Texas Gov. Greg Abbott issued a preemptive
state of disaster declaration
for 30 counties in the state while Harvey was still a depression. Earlier in the day, Abbott ordered the state operations center to elevate its readiness level.
"Texans believe in taking action and always being prepared in the event of an emergency," Abbott said. "Preemptively declaring a state of disaster will allow Texas to quickly deploy resources for the emergency response effort in anticipation of the storm's hazardous conditions."
Tropical storm
warnings have been issued
for much of the Texas coast, with hurricane warnings in effect for a smaller portion, which includes Corpus Christi.
The Louisiana Governor's Office of Homeland Security and Emergency Preparedness (GOHSEP), activated its Crisis Action Team and Gov. John Bel Edwards was
monitoring the situation
.
RELATED:
6 ways to prepare now for hurricanes
AccuWeather Atlantic Hurricane Center
Storm surge: Explaining the fury and science behind one of nature's most potent forces
"This is the time of year we typically see an increase in tropical activity," said GOHSEP director Jim Waskom. "We encourage everyone to use this time in order to re-check your emergency supplies and finalize your emergency plans.
In New Orleans, city officials are working with local, state and federal partners on ways to keep the public safe. Residents should prepare for possibly power outages, officials said. That includes stocking at least three days worth of supplies, such as food, medicine and water.
On Saturday night, the Houston Texans and New Orleans Saints will play a preseason game at the Mercedes-Benz Superdome in New Orleans.
"Even thought the game is indoors, and away from the worst of the storm, fans may still encounter travel delays and flooded roadways as they head west," AccuWeather Meteorologist Courtney Spamer said.
Due to the threat for storm surge,
Padre Island National Seashore
said it will close north and south beaches starting at 12 p.m. Thursday. The park said it will reassess when the beaches would reopen.
Many residents have already begun heeding the warnings as evidenced by the many empty store shelves that were seen around parts of southern Texas.
Shelves were nearly empty as people went shopping for groceries in anticipation of Harvey at this Walmart in Stafford, Texas Wednesday. (Photo/Instagram user czarcasmo)