By Renee Duff, AccuWeather meteorologist
August 7,2017, 3:01:14PM,EDT
Drenching thunderstorms will frequent the southern United States and raise the risk for local flash flooding and travel delays this week.
The set up early this week will lead to heavier and more frequent thunderstorms than what is typical in the South during the summer months.
"An unsettled pattern will lead to numerous showers and thunderstorms, perhaps heavy ones, from the southern Plains to the Tennessee Valley and Carolinas early this week," AccuWeather Senior Meteorologist Frank Strait said.
Moisture will congregate along a stalled system and lead to daily doses of wet weather through Wednesday.
Additional showers and thunderstorms will follow later in the week even as the front fizzles or lifts back northward.
Some communities will be drenched multiple times this week, raising the risk for flash, urban and small stream flooding.
The thunderstorms have the potential to unleash several inches of rain in as many hours, which could quickly overwhelm storm drains and low-lying areas.
Major flooding hit San Antonio, Texas, on Monday morning as nearly 2.5 inches of rain poured down across the metro area. Nearby, a
Cocorahs observer
recorded 7.52 inches of rain near Llano, Texas. According to the emergency manager, water rescues were performed in flooded areas.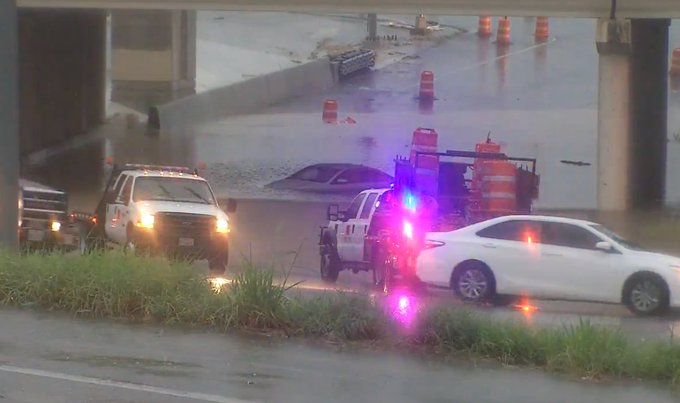 Major flooding on access road of Hwy 151 at Loop 410 interchange; Avoid the area
#
sanantonio
#
flooding
The
City of Leon Valley, Texas, Fire Department said
that residents in low-lying areas should evacuate on Monday morning amid major flooding.
A soaking, slow-moving thunderstorm unloaded a torrent of rainfall and left many neighborhoods under water in New Orleans over the weekend.
RELATED:
Southeastern US interactive radar
Tropical Storm Franklin to threaten Mexico twice this week
2017 US fall forecast: Warmth to linger in Northeast; Conditions ripe for tornado outbreaks from Texas to Tennessee
Dallas and Houston; Shreveport, Louisiana; Birmingham and Montgomery, Alabama; Atlanta; Columbia, South Carolina; and Charlotte and Raleigh, North Carolina, are all in line for downpours this week.
The downpours will also target the Florida Peninsula, threatening to occasionally keep summer vacationers indoors in Orlando and Miami.
The thunderstorms will add to the meteorological summer (June through August) rainfall record that Gainesville, Florida, has already set. A total of 34.60 inches of rain fell spanning June to August 4, surpassing the previous record of 32.55 inches from 1965.
Gainesville averages 19.58 inches during the meteorological summer months.
Daily commutes may be slower than normal along stretches of interstates 10, 20, 30, 40, 55, 65, 75, 85 and 95 as motorists face standing water on the road and reduced visibility.
Airline passengers may encounter flight delays, while residents should prepare for possible disruptions to sporting events and other outdoor plans.
A few of the thunderstorms may also unleash damaging winds.
"Typical August heat will be kept at bay due to the increase in thunderstorms," Strait said.
High temperatures that are usually in the 90s F will be held in the lower to middle 80s.
The exception will be across much of the Florida Peninsula. Storms in this area will be more typical and spotty in nature. Temperatures are forecast to rise into the lower 90s on most days.
Terra Barton III
must be staying to the east of us. Dry as a bone in West Texas.
Debbie Hope ·
IT'S BEEN RAINING SINCE 9AM THIS MORNING!