Jon Erdman
Published: April 24,2017
You may not think "April" and "heavy snow" go together in the same sentence, but in parts of the U.S., this spring month is typically the snowiest of the year.
(
MORE: Winter Storm Central
)
Examining monthly snowfall data from 4,218 observations sites across the United States receiving a yearly average of at least 2 inches of snow,
Dr. Brian Brettschneider
of the Western Regional Climate Center found almost three dozen locations where April is typically the snowiest month.
Locations where April is the snowiest month, or tied for the snowiest month of the year, on average.
These locations are all in the northern or central Rockies and adjacent High Plains, particularly the Black Hills of South Dakota, which is known for both very early and very late-in-season heavy, wet snowstorms.
Among those locations include:
Casper, Wyoming: 11.6 inches
Mt. Rushmore, South Dakota: 11.3 inches
While not its snowiest month, Lead, South Dakota, averages a stunning 32.9 inches of snow each April, and once was buried in 86.7 inches of snow in April 1984.
(
MORE: Snowiest Place in Each State
)
Average snowfall from April through June, based on 1981-2010 data.
Brettschneider found that while the lion's share of cities have their snowiest month in the core winter months of December through February, just under 500 locations are snowiest either in the fall (October or November) or spring (March or April).
(
INTERACTIVE: When the Last Snow of Spring Typically Falls Where You Live
)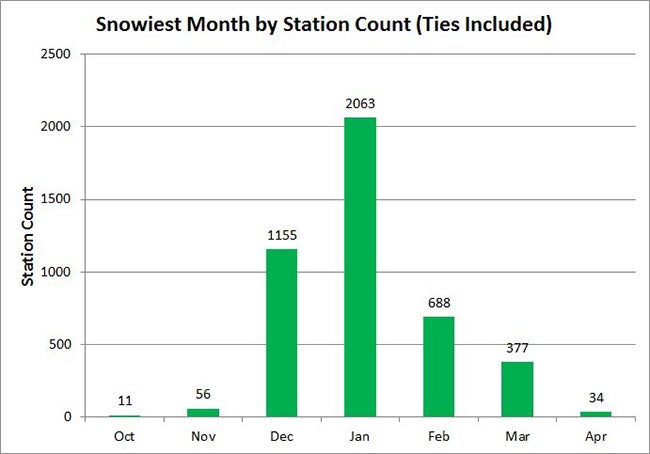 Histogram of the distribution of snowiest months of all U.S. reporting stations with at least 2 inches of snow. For example, March is the snowiest month for 377 reporting stations. In the case of a tie for the snowiest month, each tied month is counted for each station.
Recent April (and Later) Snowstorms
In mid-April 2016,
Winter Storm Vexo
dumped over 4 feet of snow in the foothills west of Denver, and a foot in the city itself.
At left: Doppler radar just before 7 a.m. CT Apr. 10, 2013 showing areas of freezing rain from northwest Texas to South Dakota. At right: Ice storm photo from Apr. 9 in Sioux Falls, S.D.
Three years before that,
Winter Storm Walda
was one of the most bizarre April snowstorms of recent history, not only
burying the Black Hills of South Dakota in several feet of snow
, but producing
freezing rain as far south as northwest Texas, and a crippling ice storm in parts of South Dakota and Iowa
.
An April 1-5, 1987, slow-moving low-pressure system led to heavy snowfall accumulation in the Appalachians
. High winds produced snow drifts of more than 10 feet, and with the weight of the heavy snow, lead to downed trees, powerlines, and some roof collapses.
(
MORE: Ranking the Most Extreme U.S. Winter Storms
)
As it turns out,
three of the top five Category 5 winter storms in the Northern Rockies and Plains
, as classified by NOAA's Regional Snowfall Index, occurred in April.
The most recent case was four-day, late April 1984 blizzard, dumping 3 to 6 feet of snow in the Black Hills of South Dakota, mountains of northern Wyoming and southern Montana.
We've also had two notable recent
May
snowstorms.
Winter Storm Venus
pounded the Rockies and High Plains as Tropical Storm Ana was making landfall in South Carolina on Mother's Day weekend 2015.
The previous Mother's Day,
Winter Storm Zephyr
was the latest/heaviest snowstorm of record in Cheyenne, Wyoming, and dumped a few slushy inches of snow in Denver.
Jonathan Erdman is a senior meteorologist at weather.com and has been an incurable weather geek since a tornado narrowly missed his childhood home in Wisconsin at age 7. Follow him on Facebook and Twitter.
MORE: 50 States' Biggest Snow Days (PHOTOS)
The Weather Company's primary journalistic mission is to report on breaking weather news, the environment and the importance of science to our lives. This story does not necessarily represent the position of our parent company, IBM.