July 5,2017, 8:16:53AM,EDT
Over the weekend, the long-anticipated monsoon finally returned to India's capital city.
Following a long dry season of record-breaking, stifling heat, the return of daily rainfall to the northern India has been welcomed by many.
When the first round of drenching rain impacted New Delhi on June 28, it helped to limit that day's high temperature to 35 C (95 F) down from 42 C (107 F) the previous afternoon.
Temperatures have been held below 38 C (100 F) each day since those initial downpours, even though the monsoon did not officially arrive until July 2.
Overall, the monsoon is off to a slightly above-average start throughout the country as a whole.
"Despite ongoing droughts in Tamil Nadu and sizable deficits in parts of northeast India, the monsoon is actually 6 percent above normal across India as a whole," said AccuWeather Senior Meteorologist Jason Nicholls.
Despite the monsoon season being underway, rainfall is expected to be limited to scattered showers and thunderstorms through this weekend.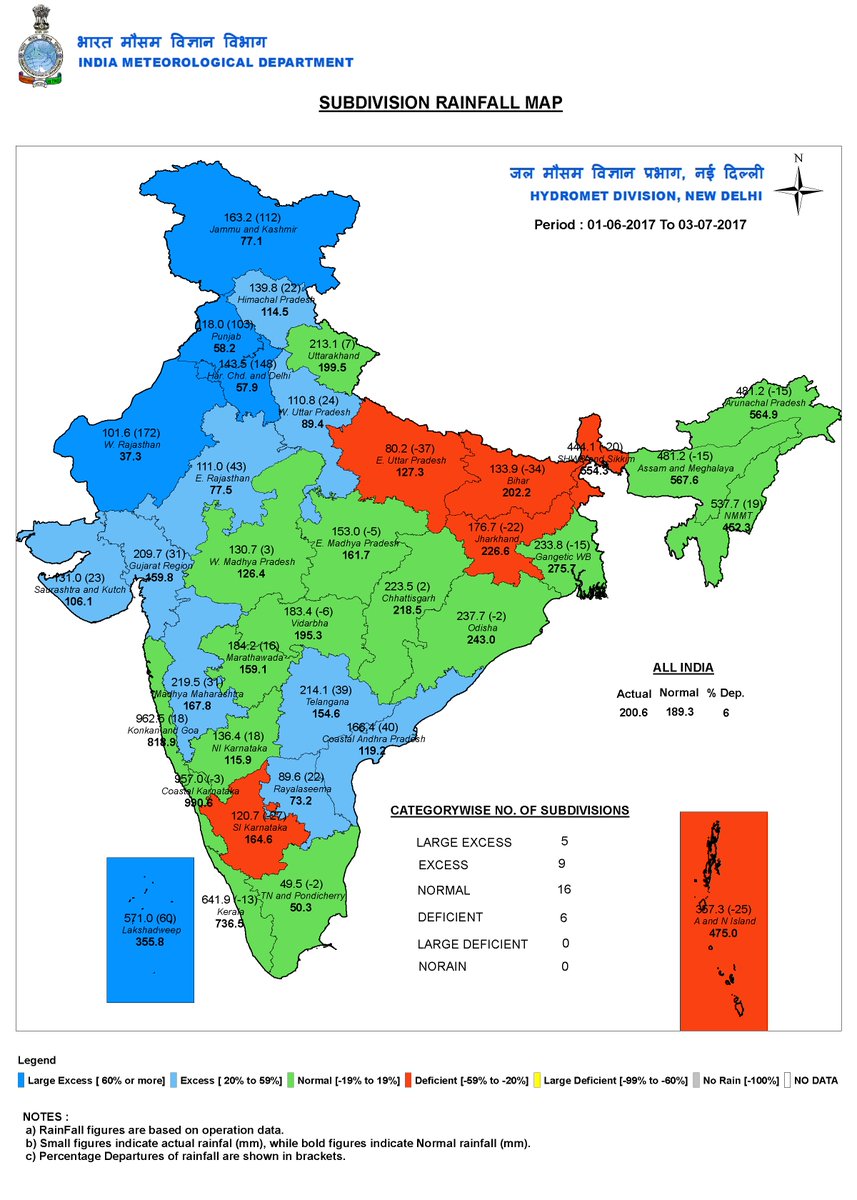 A map view of monsoon thus far.
#
India
Generous pre-monsoonal rainfall in the NW.
"Any rain through the weekend in northwestern India will be spotty and will not bring significant rainfall to the region," said AccuWeather Meteorologist Adam Douty.
A much more noticeable increase in rainfall is expected for next week as a major shift in the weather pattern unfolds.
"Next week, a monsoon low is expected to track westward across northern India," said Douty.
RELATED:
India Weather Center
Detailed forecast for New Delhi
Interactive India satellite
"This will pull moisture from the Bay of Bengal across northern India, bringing more widespread and locally heavy rainfall to northwestern portions of the country into the middle of July," he said.
Daily rainfall amounts will then jump from 0-25 mm (0-1 inch) to up to 50-75 mm (2-3 inches), providing more widespread drought relief.
While flooding will be a concern, the rainfall will be largely beneficial. Rounds of heavy rainfall may continue across northern India through the end of July.